How Fiber Bragg Grating (FBG) Sensors Measure Up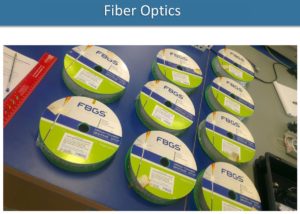 Fiber Bragg Grating (FBG) Sensors are photonics-based sensors that provide a unique application for the measurement of structural health and usage monitoring that is designed to measure strain and blade degradation through the use of optical strain gauges. Developed by Boeing and Technobis, this revolutionary evolution of machine quality measurement is fast becoming the alternative and powerful enhancement compared to the conventional electrical strain gauges that the industry still rely upon.
Structure longevity and operational safety and efficiency of any aircraft component, such as propeller blades, are determined by the stress and strain accumulated through usage, damage, age, and neglect. These types of machine degradation require up-to-date strain measurement techniques that are imperative for the success of machine lifetime maintenance costs from prototype design and testing to mission critical functionality and dependability.
What is the Fiber Bragg Grating Sensor Solution?
By utilizing FBG sensors, manufacturers and aircraft operators can more efficiently monitor the systems and subsystems within aircraft in order to determine State-of-Health (SoH) and Remaining Useful Life (RUL) of the various components in order to significantly lower operating and implementation costs for all types of aircraft.
Dynamic strain range for standard fiber is about 0.5%, standard polyimide equivalent coated fibers have been tested up to 1-2% without problems like fatigue issues. Even special fibers have been tested up to 5%.
Proper fiber connection is supported by available connector types that are compliant to rigorous aerospace applications.
Aside from the obvious advantages of optical fibers, the following factors speak in favor of opting for an optical strain gauge:
Measurement at high numbers of load cycles: Optical strain gauges allow stress tests at high numbers to load cycles (fatigue behavior) even with materials with high strains.
Suited even to difficult operating and ambient conditions: Optical strain gauges ensure reduced wiring effort. Several optical strain gauges can be integrated in a single fiber of glass. The optical measurement chain thus adapts to the individual requirements of a specific application. In addition, fiber multiplexing techniques through optical switching allow a next step in multiplying the number of sensors to be interrogated by a single system.
Low weight of connection leads: Multiplexing and light-weight fiberglass of optical strain gauges reduce the weight of the connections. The effect of the intrinsic weight of the connections on the test results is only very small (in comparison to electrical strain gauges).
Additional Design Considerations for Fiber Bragg Grating Sensor Usage:
Mechanical:
Affixing Fiber Optic (FO) cables on a blade
Electrical:
Fabricating FBG patterns to FO cables
Interfacing FBG sensors to an Internet of Things (IoT) wireless sensor, such as Ridgetop Group's Sentinel IoT Wireless Module, for real-time data transmission of diagnostic readings
System-Level:
Correlation of conventional strain gauges with FBG measurements
Ridgetop Group's Answer to Advanced Prognostic and Diagnostic FBG Sensor Possibilities
Sentinel Suite is a family of advanced prognostic and health management solutions for electronic systems and can be coupled effortlessly with FBG sensor measurement devices. These solutions offer end-to-end monitoring of systems and comprise sensors, anomaly detection, prognostic reasoners, and graphical visualization tools.