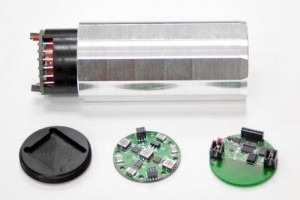 Ridgetop Group's RotoSense advanced rotational vibration sensor enables easy extraction of high-resolution acoustic signatures from rotating components in harsh environments. RotoSense is included in the Sentinel Motion™ product line of advanced diagnostic and prognostic tools for industrial applications.
Ridgetop's innovative Internet of Things (IoT)-compatible RotoSense wireless instrument helps engineers perform dynamic analysis of rotating interaction and develop improved designs for rotating components. RotoSense is available in different packages for a range of applications. In addition, data from this instrument can be used with Sentinel Motion algorithms that detect and predict faults based on external acoustic signatures, for prognostic purposes. The result is an improvement in safety, performance, and maintenance costs for future generations of rotating components.
The RotoSense wireless rotation sensors have been installed and tested inside a Bell OH-58 helicopter gearbox spinning at 5,500 RPM. A paper jointly authored by NASA and Ridgetop Group details the impressive results. RotoSense has also been tested on the Transportation Technology Center, Inc. (TTCI) test track in Pueblo, Colorado.
Data is logged and compared in real time between the local testbed and a remotely located wireless gateway with precise results.
---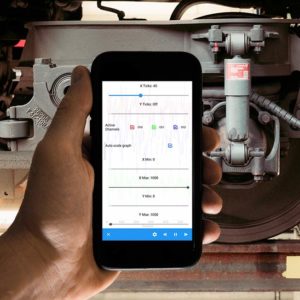 The latest update to RotoSense includes Sentinel MotionView, enabling faster setup for field analysis. Go to the Apple Store and download Sentinel MotionView on your IOS device today.
Applications
Sensing gear tooth wear, chatter, or spindle balance in computer numerical control (CNC) applications
Real-time monitoring of downhole drill vibration in oil and gas exploration applications
Detecting vibrational signatures in rotating shafts or pinions to give early warning of gear tooth cracking or spalling in wind turbines and transmissions
Sensing wheel cracks, friction, and wear in train applications
RotoSense development kits are available from Ridgetop.
For more information, contact us directly, or visit the links below.
Overviews and Brochure
Product Briefs
Related Product Pages
White Papers and Related Publications
Links to IEEE and AutoTestCon conference presentations on this subject can be found in our Resource Library
Press Releases
Featured Articles