Sentinel Suite: A PHM Solutions Family
For over a decade, Ridgetop Group has been developing effective prognostics and health management (PHM) solutions for complex, critical systems  that  can  dramatically  reduce  lifecycle costs. Prognostics, or predictive diagnostics, is the ability to detect the onset of failure before it occurs. Ridgetop Group has pioneered the development of advanced methods of detecting physics-of-failure-based
indications of impending failure. Ridgetop's approach deals with the extraction of unique "signatures" that are correlated to the impending failure conditions.
The Sentinel Suite Solution
Sentinel Suite is a family of advanced prognostic and health management solutions for critical systems and assets in unique applications. These solutions offer end-to-end monitoring of systems and comprise sensors, anomaly detection, prognostic reasoners, and graphical visualization tools.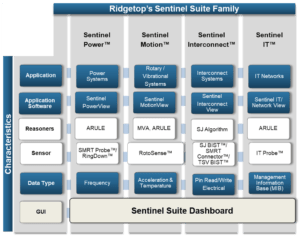 Sentinel Suite's modular, adaptable, and accurate prognostic solutions enable condition-based maintenance (CBM), thereby reducing unscheduled downtime and unexpected maintenance costs.
Ridgetop's Sentinel Suite Family of Solutions
The array of reasoners below, developed by Ridgetop, are key components to the Sentinel Suite family. They include:
Sentinel Motion
Sentinel Motion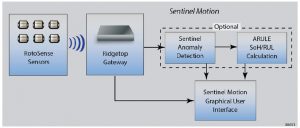 is the solution that focuses on monitoring and analyzing shock, vibration, and temperature data streams within critical assets. This product line consists of the RotoSense family of IoT-based smart sensors, the Sentinel Gateway Communications Device, and the Sentinel MotionView software application for data acquisition, analysis, and sensor-gateway management.
Industrial IoT applications that Sentinel Motion is applied towards include:
Monitoring and diagnosing bearings, wheels, and track anomalies in the railroad industry. See Sentinel Motion for Rail for more information.
Helicopter gearbox applications as shown in this NASA Whitepaper.
Sensing tool wear, chatter or spindle balance in CNC machines.
Real-time down-hole vibration monitoring in oil and gas exploration.
General shock, vibration, and temperature analysis for industrial applications.
Sentinel Power
Sentinel Power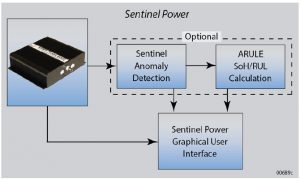 is a product line that includes signature monitoring sensors, prognostic reasoners and a visualization tool. The Sentinel Power product line offers the SMRT Probe 4000, providing advanced diagnostics and prognostics for power systems and based on RingDown technology.
Ringdown is a patented, non-invasive, stand-alone early warning approach to detecting the onset of component aging in most switched-mode power supplies. It provides an important capability that supports any electronic health management strategy for high-reliability systems.
Sentinel Interconnect
Sentinel Interconnect detects faults in solder joints, sockets, plugs, wires, cables and more. Comprising of two sensors, SJ BIST and TSV BIST, both of these products use an in-situ technology to provide monitoring during and after assembly, for lifetime reliability monitoring. These products are delivered as Verilog-instantiated IP cores for use in FPGAs, CPUs and other microelectronics packages.
Sentinel Interconnect interfaces directly to the host IC or system through JTAG, I2C, SPI or other bus. SJ BIST and TSV BIST can be configured not only to detect faults and degradation, but to perform first-pass processing of the acquired data.
Sentinel IT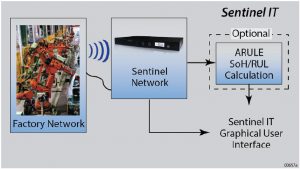 Sentinel IT provides solutions for improving IT network reliability, providing comprehensive network management (NHM). NHM provides a comprehensive set of features, including UPS health monitoring and switch troubleshooting, allowing an easier and more efficient management of the network, including advanced "Industrial Internet" and IoT applications.
Development Kits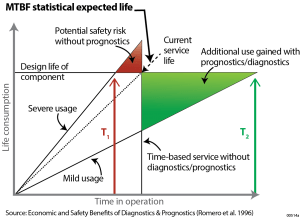 Development kits are available for each member of the  Sentinel  Suite  family to make adoption quick and easy. Contact Ridgetop for more information.
Prognostics indicate actual state of health and remaining useful life, eliminating the need to remove the system for maintenance based predetermined mean time between failures (MTBF).
Prognostic and Anomaly Detection Algorithms:
Ridgetop's software reasoner technology and algorithms enabled advanced diagnostics and prognostics of electronic and electromechanical systems. These reasoners analyze data from any kind of sensor and provide insight as to the health of systems by detecting, extracting, and analyzing degradation and fault signatures. A system, although operational, may not be performing optimally, indicating a risk of unexpected failure.
ARULE: The Adaptive Remaining Useful Life Estimator
ARULE: The Adaptive Remaining Useful Life Estimator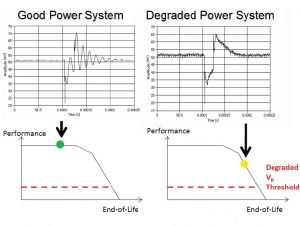 Analyzes incoming sensor data and provides systems' state of health (SoH) and remaining useful life (RUL) and can be used to detect degraded conditions to support proactive maintenance.
Detects anomalies or changes in monitored equipment performance
Reports abnormal changes
Operates on data from power, actuator and vibrational/rotational applications
For related information, see:
Overviews
Brochure
Related Product Pages