The New Innovative, Low-cost Qualification and Reliability Characterization System Solution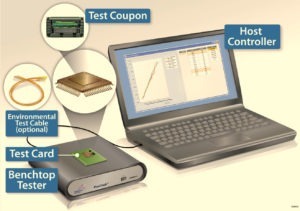 ProChek™ Plus expands upon the process reliability and device quality measurement characterizations that was offered by the original ProChek, and provides a system that is a configurable, multi-channel, flexible and dedicated semiconductor qualification and reliability characterization system that easily interfaces with a variety of test structures including single devices, wafer-level test structures and dedicated test chips. In addition to the increased accessibility provided by ProChek Plus, this new solution accelerates the testing of semiconductor devices in volume.
Why Choosing ProChek™ Plus Matters
The ProChek Plus platform is a solution that supports various instrument configurations and can provide up to 48 independently operating Source-Measurement Units (SMU) channels in a form factor that is 100 times smaller than comparable rack-and-stack equipment.
ProChek Plus supports various application strategies from 'stress all concurrently' — 'measure individuals sequentially' to 'stress and measure concurrently' approach, thereby recognizing that stress and measurement resources may have different characteristics, in addition to the fact that a resource may serve both stress and measurement applications.
ProChek Plus is able to work with already existing or dedicate test structures, as well as supports wafer-level tests or packed test structures and has provisions for add-on (interface board) instruments.
ProChek Plus Structure
The ProChek Plus platform provides an ultra-low-noise, high-fidelity section and base unit section. The high-fidelity section has 8 plug-in slots, each capable of holding instrument modules that can have up to 4 independently operating channels, providing room for up to 32 instrument or SMU channels.
The base section holds the system's power management and distribution circuitry, has a plug-in slot for the system's Master Control and Communication Unit (MCCU), and has an additional 4 slots, each capable of holding plug-in units that can have up to 4 independently operating channels, providing room for an additional 16 instrument or SMU  channels.
When fully loaded. the ProChek Plus platform can hold up to 48 independent and concurrently operating SMUs with each channel able to be physically disconnected from the main connector (relay).
Just How Much ProChek Plus Stacks-up Against the Competition