The semiconductor intellectual property (IP) cores provided by Ridgetop are "Silicon Proven" and
have documented reports available. Ridgetop has designed cores for
use in various IBM, TSMC, ON Semiconductor, and X-Fab processes. Ridgetop specializes in analog and mixed-signal designs for harsh environments, especially where radiation-hardening is required.
Bandgap Reference (BGR) Cores
Op-amps and Comparators Cores
Controlled Delay Line Cores
Power Switch Cores
Charge Pump Cores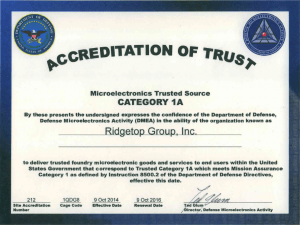 Ridgetop has been certified by the Defense Microelectronics Activity (DMEA) of the U.S. Department of Defense as a Category 1A Trusted Supplier of Design Services as part of the Trusted Foundry Program.
For more information, please click here or follow the links below.
Overviews
Product briefs
Press Releases
Related products