Ridgetop Group, Inc. is a world leader in providing advanced electronic prognostics and health management (PHM) solutions, semiconductor IP blocks, and built-in self-test (BIST) solutions for critical applications. Ridgetop Group has a proven library of IP cores and board-level solutions for optimized integrated subsystems and systems.
See below for additional information on Ridgetop's:
For a brief overview of Ridgetop's capabilities, please download our corporate brochure.
Background
Founded in 2000 with the purpose of introducing revolutionary tools to improve performance of mission-critical electronic systems, Ridgetop has built an impressive list of customers in North America, Europe, and Asia.
With a strong management team and world-class technical staff, Ridgetop has established a stellar reputation serving its government and commercial customers with "best of class" solutions. Our technical staff members have impressive credentials and experience from leading firms such as IBM, Bell Labs, Honeywell, and Burr-Brown (now Texas Instruments).
Ridgetop also maintains strong links with leading universities that add depth and leverage to our internal research capabilities. This relationship provides a true "win-win" situation for developing new and advanced techniques for dealing with difficult electronic problems.
Certifications and Accreditations
Ridgetop Group's Quality Management System is compliant with the ISO:9001 and AS9100D standards for provision of engineering, research & development, electronic prognostics, and integrated circuit design. Ridgetop's certificate of registration from Management Certification of North America (MCNA) is displayed below: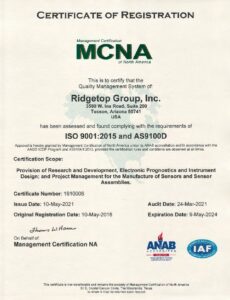 See the complete List of Accredited Suppliers from the DoD.
Ridgetop Group is foundry-agnostic and will select a technology best suited to the customer's specific requirements.
Ridgetop is registered as an ITAR-compliant company for manufacturing and exportation of products.
Mission Statement
Ridgetop's  mission is to provide advanced tools,  libraries, and to provide design services for critical applications. In that mission, we maintain the following core values:
"Engineering Innovation" with excellence and technical contributions to society
Respect and opportunity for Ridgetop people with continual self-improvement and the opportunity to share in the success of the company
Contribution and responsibility to the communities where we operate
High quality products and services for Ridgetop customers
Profit and growth as a means to make all of the other values and objectives possible
Quality Policy
Ridgetop Group, Inc. provides engineering innovation to its customers with high-quality products delivered on time and to customer requirements. All employees have the respect of the organization and the opportunity to improve themselves as well as the products and processes used by Ridgetop Group. It is through their responsibility and contribution that Ridgetop Group continues to be profitable and growing.
Ridgetop provides an environment where people can excel.